Consultation and Build
Following a look at a brochure and a consultation with one of our educated staff, we will give you an initial bid based on what you want for your pool. The bid will include 3 feet of cement decking to surround your pool and a cement slab (about 4' x 5') to set your pool equipment.
The equipment, a motor, pump and filter, is also included in the bid. Once an agreement has been reached we set a date to begin creating the backyard lifestyle of your dreams!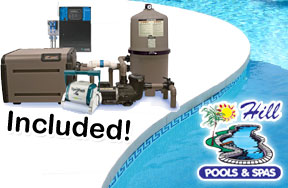 Site Plan and Excavation
About two days before excavation begins, we come to your home and spray paint exactly where your pool will be. This gives you an impression of the size, shape and location so that before we dig you have the opportunity to make any final adjustments. After we're given the green light excavation begins.
Setting the Forms
During excavation you'll notice we dig about 3 feet wider than the intended edge of your pool. This is done purposefully so that when we set the forms, stainless steel walls with a lifetime guarantee,there is space enough for concrete to be poured behind to ensure a sturdy base for your pool. The remainder of the space will be filled in with dirt from the excavation so that it is flush with the surface.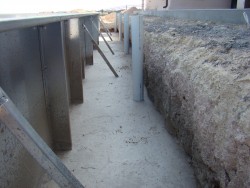 Vermiculite Application
Next we use vermiculite or pool-Crete to provide a smooth base for the bottom of your pool.
Pool-Crete has some give to it, unlike concrete, to help prevent cracking in the floor of your pool caused by shifting of the earth underneath. Finally, once the vermiculite has been poured and dried, we put the vinyl liner in the pool.
The liner will be cut to the exact measurements of your pool and fit with precision so there are no wrinkles in the liner. Now we just add water and you're ready to go!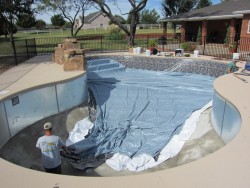 Pool School
Initially, we will put the chemicals in your pool for you. After that, for the convenience of our clients, we offer Pool School, where we come to your home and show you how to use the equipment, cleaning instruments and chemicals.
Also, about a week or two after your pool is complete it is important to bring in a sample of the water for testing to confirm proper water chemistry.